The Superfluous Page.....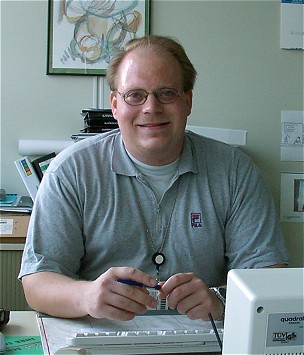 Don't panic - it's just me. ;-)


My name in real life is Fridtjof Uth. I know, this is hard to remember. So my friends gave me my nickname Fridi.
Today I live in Hamburg, Germany where I was born on August 19th, 1970. I had the opportunity to pass my childhood in Toulouse, France
I am working as part of the IT security management team in the IT department of AIRBUS, a big European aircraft manufacturer, part of EADS group. My main tasks are performance of audits, compliance reviews and risk assessments, definition of policies and procedures, and advising management, projects, operations and users on security issues. My personal interest is in all cryptography-related technologies and processes, computer forensics and automated security reporting and incident alerting. In December 2002 I have also passed the CISSP exam, and in February 2004 the BS7799 Lead Auditor one. :-)
In 2001 I have graduated in Business Science and Management at the Nordakademie, a private university of applied sciences, after several years of studies at the side of my job. My thesis was about benefits of intranet technology for support of internal processes.
In my spare time I like reading good books and watching movies (especially but not exclusively Science Fiction and Thrillers), playing squash and if my account balance is favourable, travelling the world. And I am a great enthusiast of North American Railroads.
For further details please visit my Links page. In a while I may add some own content about selected topics on my web site.
Some illustrated travelogues from my friends and myself can already been found here: Texas 2003, Namibia 2004

| | |
| --- | --- |
| | If you want to contact me, please feel free to send me an E-Mail. You can write me in English, German or French, I speak all those languages fluently. I also understand some very basic Spanish, just try. ;-) |
© Fridtjof Uth - Last update: October 10th, 2004